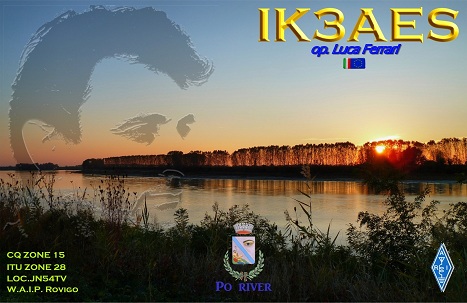 My current QSL with my "three / quarters" printed in a beautiful sunset over the Po
My shack.
Radio PC is an Intel I5 water cooled linked with Rigexpert USB Interface III to the Yaesu FT-847, for ICOM IC-7610 an USB cable is enough.
Software log is Winlog32 by Daniele Pistollato, IW3HMH. It's very complete and powerful!
I used for a long time Winlog32 software of Colin, G0CUZ and i've to thanks a lot Him.
For digital modes I use MixW3, FlDigi or WSJT-X, and for contests (the few that i do) i use the excellent QARTest (TNX IK3QAR) or N1MM.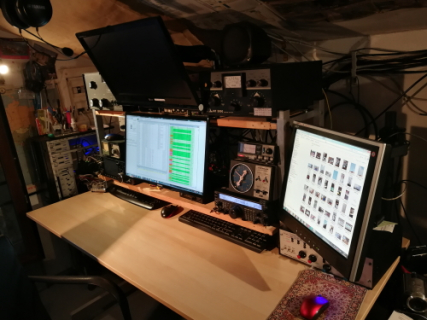 My shack.
After 25 years with an ICOM IC-765 i've a new toy, an ICOM IC-7610 for HF, Yaesu FT-847 for 2 and 6m (mostly or as second HF radio), tuner Magnum MT3000, Ameritron AL-811H linear amplifier (on pile-up it needs!), Bencher paddle, Datong FL3 audio filter, rotor Kenpro KR-2000RC.
For all other activities outside of the radio I have a quad-core processor PC assembled under my son's guidance.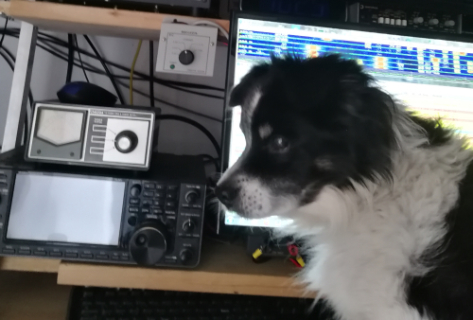 My second operator! (Now SK...).
He's Birillo, faithful life partner for 20 years , He hated to stay alone so very often stood with me in the shack....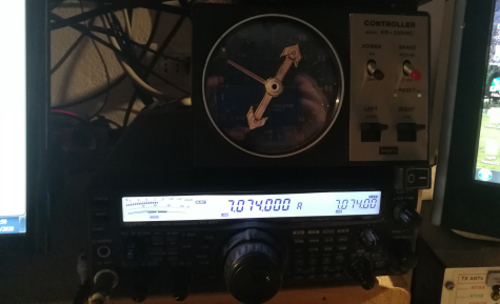 focus on the Yaesu FT-847 that I mainly use for 50MHz, 144MHz and 432MHz connected by a triplexer to a V-2000 tri-band antenna on top of the mast or used as second radio for FT4/FT8 with WJST-X.
Although the setup is not the best I have worked 34 countries on 6m and I had a contact with Germany on 2m band (TNX DK1FG).
Above the RTX the Kenpro KR-2000RC rotor controller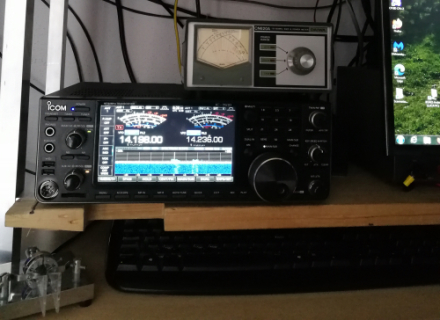 Icom IC-7610, my main radio for HF.
Simply fantastic! I still have to discover better it but it's really another world....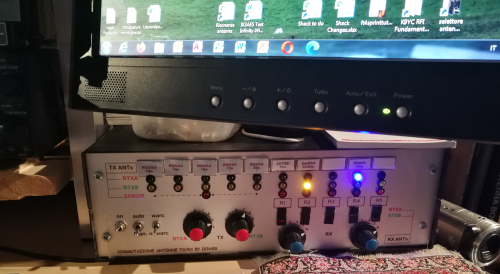 Self developed and home made SO2R remote antennas selector.
It drive the remote SO2R selector realized on SJ2W pcb and implemented to have an interlock on 10 to 20m band (cubical quad, via remote unit of Ameritron RCS-8V) in order to avoid to transmit with both radios on it due to element closeness.
It's just prepared for future implementatiuon in order to permit an independent RX antenna for each radio.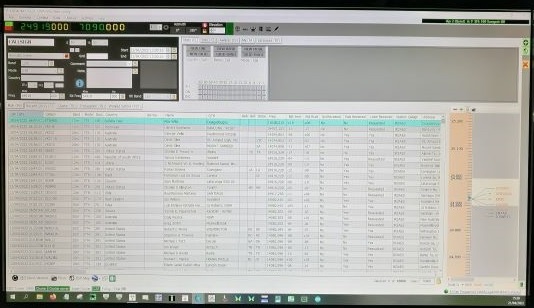 The Log4OM screen, excellent logging program created by Daniele Pistollato, IW3HMH, and His Team.
It's a very powerful program, and free!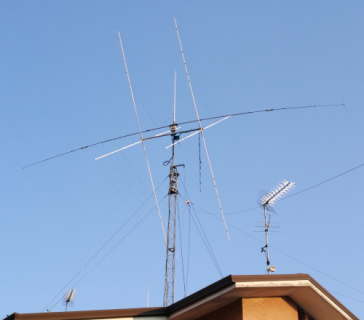 The antennas are surely the most important part of an amateur radio station. However, should strike a balance between the available spaces and the price you can spend on the hobby!
I am lucky enough, my house has conveniently accessible roof, a small garden where to get some wire and tolerant neighbors. I installed a trellis Pro.Sis.Tel (TNX IK7MWR) with truck lowered in 1995. Over the mast are my 2 element cubical quad for 10-12-15-18-20m and my 80m band CD78jr Create rotary dipole. From the same tower to stretch my garden the wire of my 160m home made dipole, from the roof another wire of an home made delta loop for 40m fall in the garden.
on top of the mast i have for VHF a 6m/2m/70cm V2000 triband verticaland just above the roof a dedicated dual-band vertical for my vehicular biband ICOM.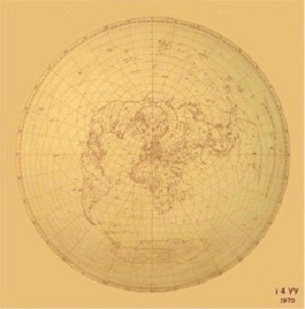 This is the only azimuthal map (in my knowledge) centered on Ferrara. It is a splendid work of the Friend Giancarlo, I4YY.
Although very dated, as purchased in the early 80's when i had my OM license, i am fond and have a fine look in my shack.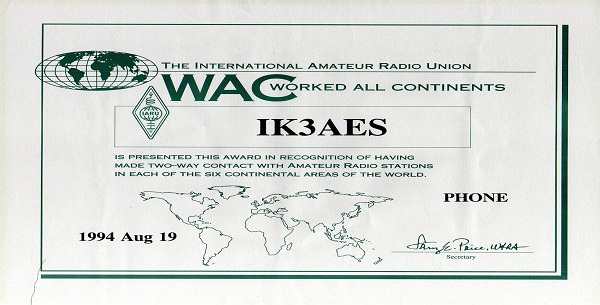 The first diplom that I requested. At the time I worked with an Hy-Gain 12AVQ vertical and a SOMMERKAMP FT505DX (still jealous my possession) that was replaced by a Kenwood TS-430.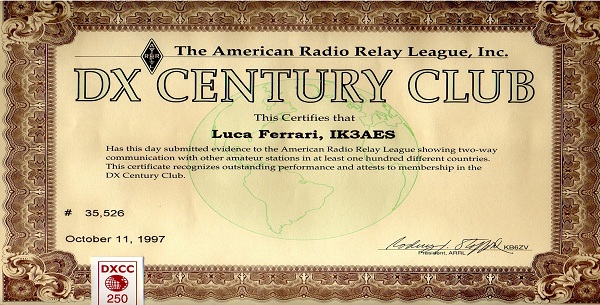 I currently confirmed over than 300 DXCC countries and could require a band one for 10/15/20m but my satisfaction is knowing that i had confirmation of those country.
One more plaque will not make me a better OM.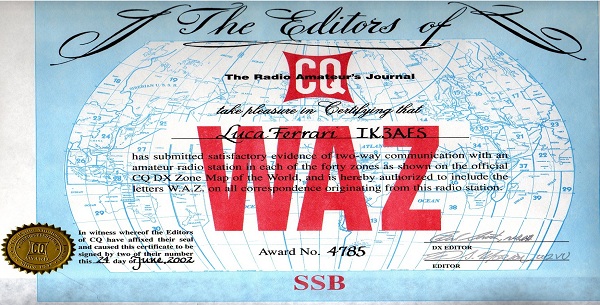 The Diploma confirms 2-way QSOs with all 40 HAM terrestrial areas.
It couldn't be easy to work some areas and receive confirmation, but with a little bit of perseverance and propagation ... it can be done!.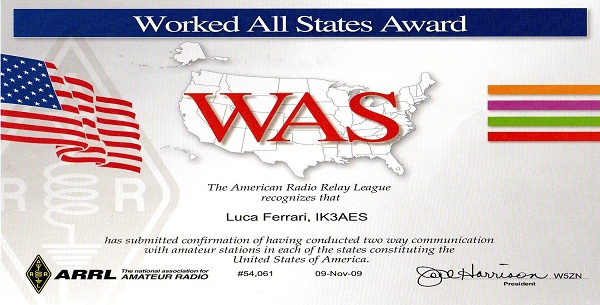 To get links and confirmations from all the American States had to engage not only in radio but also in all mode for a sked!
I also found several friends, I would like to mention them all but there are too many, so one for all, Alan KO7X from Carpenter, Wyoming. Very kind and patient! .
MY CERTIFICATES
August 19th, 1994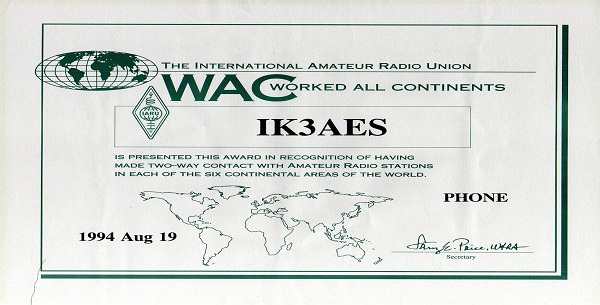 October 11, 1997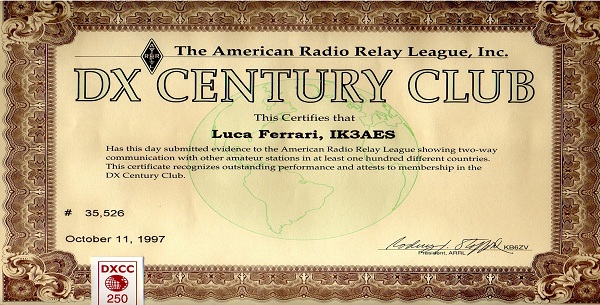 June 24, 2002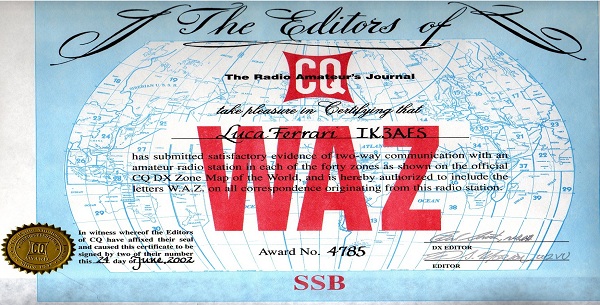 November 9, 2009