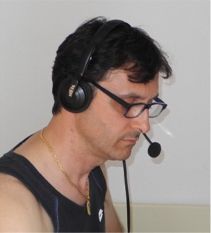 Hello, I'm Luca Ferrari, born in Ferrara, I live in Santa Maria Maddalena, Rovigo province, and I am an HAM.
My first call was IK4AES.
Later, i'm having moved residence in Veneto region, and my call is changed in the current IK3AES.
you can find a proper explanation of what is an HAM in Wikipedia
(
http://en.wikipedia.org/wiki/Amateur_radio
).
The only experimentation I don't think that's the only spring that pushes me to continue my hobby.
I like to exchange opinions with people and cultures.
A question that's often made to me by not HAM people is: "could you have easier contacts with internet, by phone or Skype?". It's a correct consideration ... but you don't know my satisfaction when i have a two way contact (QSO) with ionosphere bounces, estimating the best band propagation could be on an hour depending on solar activity!
I realize that for a newcomer to amateur radio activity that statement sounds a bit masochistic but perhaps only because we have lost the desire to be able to get something relying only on our own intelligence.
The "real" Radio Amateur is who would be building up itself everything from equipment to the antennas ... but not everyone has the skills and maybe even have time to do so. I can assure, however, that even the attempt to assemble decently an Amateur radio station as mine, operating on 9-band and for HF in all types of emission involves a certain effort!
My passion for radio was born in the early years of study in high school, Electronic study, my first experiences with the Citizen Band and later with the obtainment of the amateur radio license.
I met many friends on the radio, both in Italy and abroad, and when possible i'm happy to connect them by radio or meet them in person.
I'm a member of
Associazione Radioamatori Italiani
(A.R.I.),
American Radio Relay League
(A.R.R.L.),
IQ4FA ARI Ferrara Contest Team
,
I.C.C.
(Italian Contest Club),
MDXC
(Mediterraneo DX Club), and when possible, i like to take part in some operations (see DXpedition page for those i had already made) with Friends IK4RQJ, IK4ALM, IK4DZB, IZ4WJA, IK4JPR under the flag of "Geriatric DX Team".
I worked as expert analyst of IT systems in one of the largest firm in the area and now i'm retireing so i can dedicate myself more deeply to my hobby!.
This site is a kind gift of my Son that has so encouraged me to have a webpage more in step with the times and when He realized that i hadn't time to do this had fisically explained the concept!
I hope to connect You soon, 73 de Luca, IK3AES.